Arapahoe Credit Union Free Shred-a-Thon
and Electronic Recycling 
Supporting Littleton High School FBLA
Arapahoe CU will be providing fully-paid, onsite shredding. However, we hope you will pay forward this service through a donation to the Future Business Leaders of America at Littleton High School. Every dollar raised goes directly to their program, allowing students to experience community outreach projects that would otherwise be cost-prohibitive.

We will be collecting donations on the day of the event as well as here. Should you simply want to donate to the FBLA, please feel free to do so!
Free for Both Members and Non-Members
November 17th, 2018 at the Littleton High School Parking Lot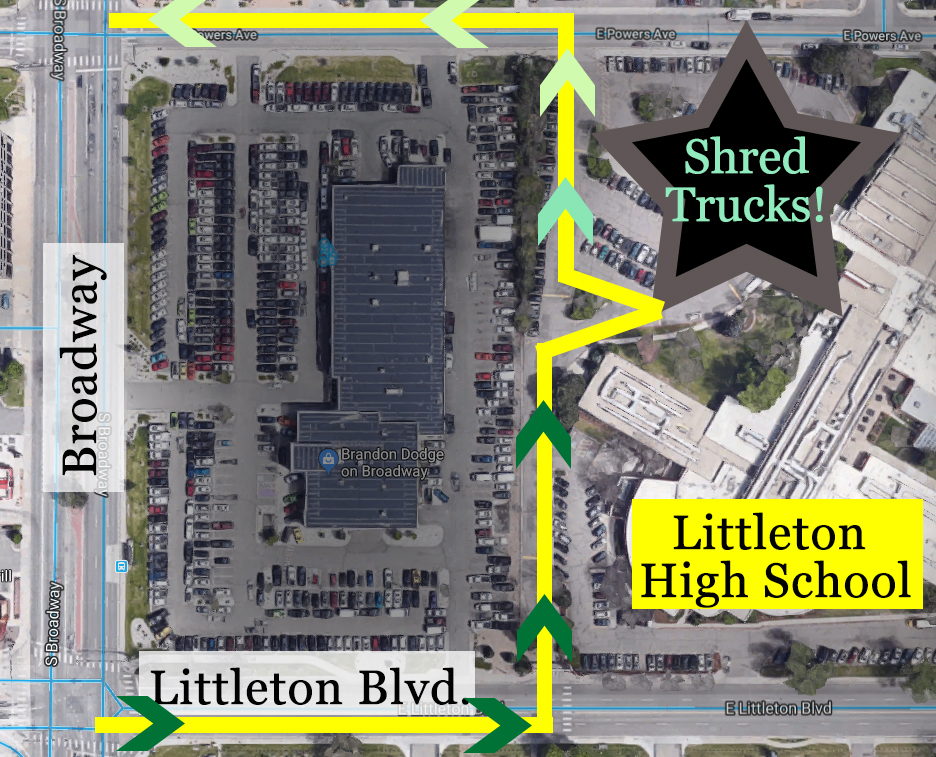 Paper Shredding

Bring old bank statements, check registers, receipts and anything else with personal information on it.
No limit with donation over $5/ Box! ACU members are always free! Otherwise, we ask that you maintain a limit of 3 banker boxes or less worth of shredding. If you have more than this, please contact Sean at 720-231-8358 to discuss what we can do for you. We'll see what we can do! We ask ACU members with mor ethan five boxes to simply let us know in advance so that we can take care of you efficiently.

Electronic Recycling
Location

Littleton High School
199 E. Littleton Blvd, Littleton, CO 80122
Contact: Feedback@ArapahoeCU.org
Day of Contact: 720-231-8358
There will be three trucks from 9:45 until 1:30pm.
Description
Don't miss ACU's annual Shred-a-Thon: A free community shred and electronic recycling event with shredding, an on-site auction, and small electronics recycling. We are asking for any support you can give towards LHS's FBLA program.
Feel free to bring any documents for ON-SITE destruction (watch it happen!). Bring old bank statements, check registers, receipts and anything else with personal information on it. Additionally, feel free to bring your small electronics and we will get those recycled as well! (Unfortunately, we are no longer able to accept ANY box/ tube/rear projection screens. We also are unable to offer electronic data destruction.)
We have three trucks at Littleton High School. Please take Littleton Blvd. heading east from Broadway. Follow the signs and exit north on E. Powers!
For current members, in some cases, we may be able to provide advance drop-off options. Call us at 303-740-7063 and we will see what we can do for you!
For a complete list of acceptable electronics, click here.
While trusted, Data Destruction's site is subject to their terms and conditions and not owned by ACU.
Shredding Services are Free
Arapahoe CU is covering all expenses for this event. However, we will also be taking donations. Additionally, cash and check donations will go directly to the LHS FBLA to help out their programs.


$125
Top Fundraiser:
Thank You, Mr. Martin
---
Don't worry, we aren't expecting the default amounts shown here. This is simply the easiest way for our Communication Department to receive donations.